Rachel Latta Franck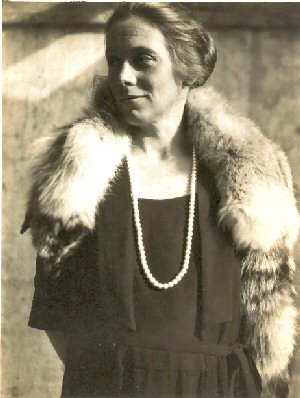 Rachel in China, 1922
In 1919, Harry married Rachel Whitehill Latta, of Chestnut Hill, Philadelphia. Rachel was his companion on many trips and helper throughout many of his books, and even wrote one book herself, entitled "I Married a Vagabond" (published in 1939). After her death, her daughter Pat (Patricia Franck Sheffield) wrote the following remembrance.
Thanks, Pat, for letting us share this!
Remembering Rachel Franck
by her daughter Pat Sheffield
There's a 1935 photograph of my mother, taken when she was almost 43, showing her in a Hawaiian two-piece bathing suit, standing on a moving surfboard, her arms outstretched and Diamond Head in the background. The fact that she stayed up only long enough for the picture is beside the point. She managed it.

You had to know her whole story to appreciate my mother. The tomboy as a child, walking on top of fences. Riding on a sled between the wheels of a carriage and just missing the horse's hooves. Sailing her dory in competition in Maine. Studying navigation with a sea captain, with molasses instead of mercury for an artificial horizon (until the dog ate it). At boarding school, she vowed to "make" every team and every organization...and did so. And she made almost every class of 1912 reunion as well.

Surfing in Hawaii, 1934

Harry and Rachel Franck on their wedding day, 1919

When her father refused to allow her to study medicine or nursing ("It takes the bloom off a woman"), she studied business and went to France during World War I to work in Paris, going outside strictly according to schedule so as to avoid being hit by the shells from Big Bertha. A secretary during the week, she spent her weekends as a volunteer, nursing soldiers hit by mustard gas in combat and never knowing which ones would be gone the next weekend.

The ultimate daring act was to marry someone who was NOT from Chestnut Hill... but from MICHIGAN. The fact that my father, Harry A. Franck, was already a noted travel book writer and lecturer worried the family even more, especially since he claimed he would be back to marry her in June 1919 but had gone underground to sneak into Germany after the Armistice. Needless to say, it all worked out. The honeymoon began with a five-minute driving lesson in a Buick named Caroline, continued with the removal of someone's front steps, and was followed by the brakes catching fire going down a long hill.

By the time his German book went to press, she was pregnant and on the way to the West Indies. Miscalculations by everyone concerned required my father to deliver the baby at sea without any help except from a fellow passenger who had once delivered his own child.
More than two years in China (one baby, Katharine), a few years in mundane places like Long Beach NY (I always felt deprived) and Darien, CT (Bill came next), then a spell in England (Peter trailing after). She finally convinced my father that we needed to put down roots and go to the same school for more than a few months.

So they moved into the white house at the end of North Main Street in New Hope (PA). By the time our Paxson farmhouse was livable, it was 1934 and we were well ensconced in the area. Mother slaved over all of us and at the same time slaved over the typewriter, copying and recopying his manuscripts and reading galley proofs on her hands and knees on the living room floor.
Dad was away a lot, starting another travel book or doing a lecture tour. Sometimes she went along, leaving us with an odd relative for a time. Or he left her behind to do all the work. I remember the time we had a blizzard (we had REAL snow in the OLDEN days!) She put on a knapsack and snowshoes and walked to town. She asked the storekeeper which weighed less, rice or potatoes, and brought it back to us. I still don't remember which choice they made.
Dad went into the Army again in 1942 , lying about his age (61) and mother went into the Office of Strategic Services, chasing leads all over the country to track down pictures which would make up a photographic mosaic of a town, allowing our invading soldiers to know just where a certain alley was in Paris or where certain landmarks were in Asia, all in case our troops needed such information.
After the war, there was no market for his kind of travel books. They went to Africa twice, six months for each trip, but the book never appeared.
They went on a few cruises as paid staff, but doing only the tourist bit was to them a travesty of the meaning of "travel." Then Dad developed Parkinsonism, which for a compulsive traveler was a tragedy indeed.
After his death in 1962 Rachel Franck became more active in the community, in Solebury Friends Meeting, in the Farmer's Club. She lectured everywhere, especially with Dad's hand-painted Chinese slides of 1922-24, the trip for which she had total recall.
She also acquired her most prized possession, a 1966 blue Buick convertible. "Sometimes, when I put it in the garage, I want to pat it on the nose and give it a lump of sugar." At 83, she also earned a B.A. from the State University of New York.
Those of you who knew her only recently could still sense the flavor of her life. She was fully aware how lucky she was to escape the Chestnut Hill debutante/garden club/Colonial Dames syndrome, even though she never had to live in Michigan. And her need for permanent roots far eclipsed Dad's.
He sometimes referred to the place in New Hope as "that mudhole", but he tolerated it most of the time. For Rachel, it was her adored home. With all of us out of the house, she had only the squirrels, the deer, the groundhogs... and the raccoon who still opens our garbage can.
When she died on April 12 (1986), she had been active up until almost the end, with a lecture on March 1st to the Farmers Club, showing Dad's slides from his first trip in 1904-1905.
She did that one from a wheelchair, her ankle in a cast, valiantly trying to describe each scene (from a trip she had not taken) based on a rereading of his first book and with a flashlight aimed at a moth-eaten typed list identifying each slide. She still pulled in twice the normal attendance!
Jack Fisher put it just right in Silent Meeting on First Day morning, April 13. "I try to replace that terrible picture of her in her bed yesterday, by seeing Rachel instead racing down a long cosmic highway in a blue convertible with the top down!"